EQUAL
OPPORTUNITY

WOMAN
ENGINEER

MINORITY
ENGINEER

CAREERS &
the disABLED

WORKFORCE
DIVERSITY

HISPANIC
CAREER WORLD

AFRICAN-AMERICAN

CAREER WORLD

Woman Engineer Magazine, launched in 1979, is a career-guidance and recruitment magazine offered at no charge to qualified women engineering, computer science and information technology students & professionals seeking employment and advancement opportunities in their careers.

This magazine reaches students and professional women engineers nationwide at their home addresses, colleges and universities, and chapters of student and professional organizations.

If you are a woman engineering student or professional, Woman Engineer is available to you FREE!
Subscribe Now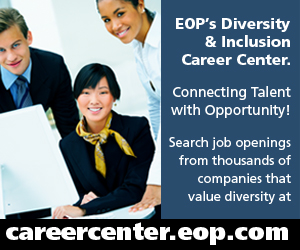 WOMAN ENGINEER

Featured Articles (Current Issue)
» Read Digital Edition
» Subscription Information
» Reader Survey
» Companies Actively Recruiting
Rebuilding The Infrastructure
According to the Bureau of Labor Statistics, employment of civil engineers is projected to grow 20% from 2012 to 2022, faster than the average (at 11%) for all occupations. As infrastructure continues to age, civil engineers will be needed to manage projects torebuild bridges, repair roads, and upgrade levees and dams. read more

Magnificient Minds: Sixteen Remarkable Women In Science And Medicine
Did you know that Florence Nightingale pioneered the use of statistics in public health? read more

Only The Good Peer Mentor Young
In the traditional mentor-mentee relationship, the mentor helps her young protégé to develop certain skills, to understand workplace issues, and to cultivate a useful network of contacts. read more

Employers Who Make A Difference - IBM
Headquartered in Armonk, NY, IBM is a globally integrated technology and consulting company with operations in more than 170 countries. IBM is focused on five growth initiatives - cloud, big data and analytics, mobile, social business, and security. read more
All Content ©1996-2015 EOP, Inc.
Website by: