EQUAL
OPPORTUNITY

WOMAN
ENGINEER

MINORITY
ENGINEER

CAREERS &
the disABLED

WORKFORCE
DIVERSITY

HISPANIC
CAREER WORLD

AFRICAN-AMERICAN

CAREER WORLD

Woman Engineer Magazine, launched in 1979, is a career-guidance and recruitment magazine offered at no charge to qualified women engineering, computer science and information technology students & professionals seeking employment and advancement opportunities in their careers.

This magazine reaches students and professional women engineers nationwide at their home addresses, colleges and universities, and chapters of student and professional organizations.

If you are a woman engineering student or professional, Woman Engineer is available to you FREE!
Subscribe Now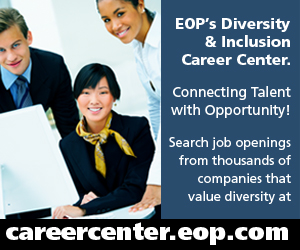 WOMAN ENGINEER

Featured Articles (Current Issue)
» Read Digital Edition
» Subscription Information
» Reader Survey
» Companies Actively Recruiting
Excelling In Government And Military Careers
Careers in the government and miliary provide long-term employment, exciting assignments, interaction with talented colleagues, and meaningful work. For these four female engineers, these were prime considerations when they "Signed On." Years later, that is what they continued to find. read more

Chemical Engineers's Salary Finds Pay Equity
A salary survey from the American Institute of Chemical Engineers (AIChE) found that apparent gender disparities are accounted for by time taken off for family reasons—and that time off impacts all engineers— regardless of the gender of the engineer taking such leave. read more

Pride, Not Being Cheeful, Viewed As Key For Leadership
The Staying ahead in this job market is not that difficult, says Wayne Richardon, executive career strategist with ResumesFor Leaders.com. read more

Society OF Women Engineers Appoints Karen Horting Director And CEO
Society of Women Engineers's deputy executive director Karen Horting becomes executive director and CEO, be ginning January 1, 2014, reports the organization. read more
All Content ©1996-2012 EOP, Inc.
Website by: