EQUAL
OPPORTUNITY

WOMAN
ENGINEER

MINORITY
ENGINEER

CAREERS &
the disABLED

WORKFORCE
DIVERSITY

HISPANIC
CAREER WORLD

AFRICAN-AMERICAN

CAREER WORLD

CAREERS & the disABLED Magazine, established in 1986, is the nation's first and only career-guidance and recruitment magazine for people with disabilities who are at undergraduate, graduate, or professional levels. Each issue features a special Braille section.

CAREERS & the disABLED has won many awards, including several media "Award of Excellence" acknowledgments from the President's Committee on Employment of People with Disabilities.

This magazine reaches people with disabilities nationwide at their home addresses, colleges and universities, and chapters of student and professional organizations through a paid subscription.
Subscribe Now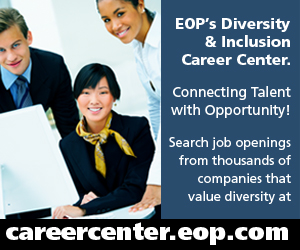 CAREERS & the disABLED

Featured Articles (Current Issue)
» Read Digital Edition
» Subscription Information
» Reader Survey
» Companies Actively Recruiting
Still Serving Their Government
Today, the organization partners with landowners to develop conservation programs and restore wetland and wildlife habitats. Of course, ranching and farming are critical components to the national economy—consumers spend more than $545 billion on food grown or raised on domestic farms and ranches. But what do agriculture practices have in common with military training? More than you think, as Michael Bacon found out when he joined NRCS four years ago. read more

CDC: 53 Million Adults In the US Live With A Disability
In the United States, one out of every five adults has a disability, according to a new study published by the Centers for Disease Control and Prevention. read more

Job Advocates, EMC
Headquartered in Hopkinton, MA, EMC Corporation is a global leader in enabling businesses and service providers to transform their operations and deliver IT as a service. read more


Marriott Foundation For People With Disabilties Celebrates 25th Anniversary
Culminating its 25th anniversary celebrations at a gala event at the Washington Marriott Marquis, the Marriott Foundation for People with Disabilities raised more than $1.5 million for its Bridges from School to Work program, an initiative which has served more than 20,000 youth with disabilities, helping to train and find employment in nine markets throughout the United States. read more
All Content ©1996-2015 EOP, Inc.
Website by: