EQUAL
OPPORTUNITY

WOMAN
ENGINEER

MINORITY
ENGINEER

CAREERS &
the disABLED

WORKFORCE
DIVERSITY

HISPANIC
CAREER WORLD

AFRICAN-AMERICAN

CAREER WORLD

CAREERS & the disABLED Magazine, established in 1986, is the nation's first and only career-guidance and recruitment magazine for people with disabilities who are at undergraduate, graduate, or professional levels. Each issue features a special Braille section.

CAREERS & the disABLED has won many awards, including several media "Award of Excellence" acknowledgments from the President's Committee on Employment of People with Disabilities.

This magazine reaches people with disabilities nationwide at their home addresses, colleges and universities, and chapters of student and professional organizations through a paid subscription.
Subscribe Now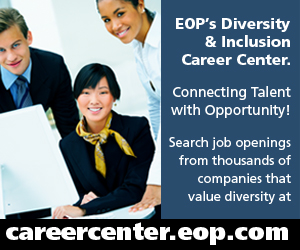 CAREERS & the disABLED

Featured Articles (Current Issue)
» Read Digital Edition
» Subscription Information
» Reader Survey
» Companies Actively Recruiting
Pharmaceutical Careers Extend Beyond The Lab
From retail operations to federal oversight, there's a broad spectrum of professional opportunities in the pharmaceutical industry and related businesses. read more

Breaking Down Employment Barriers
According to the latest U.S. Census Survey over 27 percent of working age individuals with a severe disability are working. read more

Companies And Careers Bloom In The IT Space
With little doubt that technology rules, it comes as no surprise that many individuals with an aptitude for, and interest in, high-tech endeavors gravitate towards the field of information technology. read more


White House "Champions of Change"
On October 14, The White House honored "Champions Of Change;" People who are doing extraordinary work to create employment opportunitities for individuals with disabilities. read more
All Content ©1996-2012 EOP, Inc.
Website by: