EQUAL
OPPORTUNITY

WOMAN
ENGINEER

MINORITY
ENGINEER

CAREERS &
the disABLED

WORKFORCE
DIVERSITY

HISPANIC
CAREER WORLD

AFRICAN-AMERICAN

CAREER WORLD

CAREERS & the disABLED Magazine, established in 1986, is the nation's first and only career-guidance and recruitment magazine for people with disabilities who are at undergraduate, graduate, or professional levels. Each issue features a special Braille section.

CAREERS & the disABLED has won many awards, including several media "Award of Excellence" acknowledgments from the President's Committee on Employment of People with Disabilities.

This magazine reaches people with disabilities nationwide at their home addresses, colleges and universities, and chapters of student and professional organizations through a paid subscription.
Subscribe Now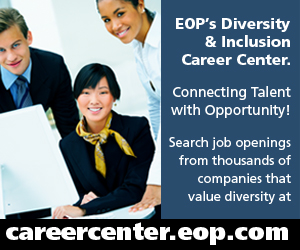 CAREERS & the disABLED

Featured Articles (Current Issue)
» Read Digital Edition
» Subscription Information
» Reader Survey
» Companies Actively Recruiting
Wounded Vets Prove Their Mettle
In April 2015, the New York Mets honored North Shore-LIJ Veteran Juan Serrano; pictured here with his son. Serrano is Director of the Office of the Military and Veterans Services. read more

Celebrating The 25th Anniversary Of The Americans With Disabilities Act
July 26, 2015 marks the 25th Anniversary of the Americans with Disabilities Act (ADA). Celebrations of the signing of the ADA by President George H.W. Bush on July 26, 1990 are taking place across the nation. read more

CAREERONESTOP Offers Help With The Job Search Process
Finding a job is typically a stressful process. read more


Hiring 500 Heroes Program Reaches Goal
The US Chamber of Commerce Foundation's Hiring Our Heroes (HOH) and Capital One Financial Corporation announced that the Hiring 500,000 Heroes campaign has reached its goal of engaging the business community to hire half a million veterans and military spouses. read more
All Content ©1996-2015 EOP, Inc.
Website by: