EQUAL
OPPORTUNITY

WOMAN
ENGINEER

MINORITY
ENGINEER

CAREERS &
the disABLED

WORKFORCE
DIVERSITY

HISPANIC
CAREER WORLD

AFRICAN-AMERICAN

CAREER WORLD

CAREERS & the disABLED Magazine, established in 1986, is the nation's first and only career-guidance and recruitment magazine for people with disabilities who are at undergraduate, graduate, or professional levels. Each issue features a special Braille section.

CAREERS & the disABLED has won many awards, including several media "Award of Excellence" acknowledgments from the President's Committee on Employment of People with Disabilities.

This magazine reaches people with disabilities nationwide at their home addresses, colleges and universities, and chapters of student and professional organizations through a paid subscription.
Subscribe Now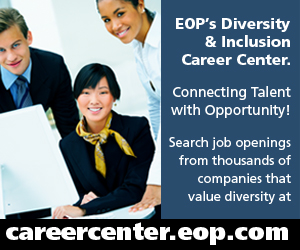 CAREERS & the disABLED

Featured Articles (Current Issue)
» Read Digital Edition
» Subscription Information
» Reader Survey
» Companies Actively Recruiting
More Than Creating Medicine
The Pharmaceutical Industry Cares For Employees With Disabilities. read more

NTID Intern
Alexander Van Hook, a third-year Political Science major at Rochester Institute of Technology's (RIT) National Institue for the Deaf (NTID), spent his summer in Washington, DC, where he completed a co-op in the capitol working for U.S. Rep, Cathy McMorris-Rodgers, from Washington state. "It was an amazing internship experience," says Van Hook, of Upper Black Eddy, PA. read more

Most Jobseekers Search Online
According to a survey by Talent Mobiity Consulting Firm Lee Hecht Harrison, nearly all jobseekers report having some online presence. While the majority report having at least a LinkedIn proile, about one-third are engaged on several social media channels. read more


EEOC Examines Rights And Challenges
The U.S. Equal Employment Opportunity Commission (EEOC) observed the 40th Anniversary of the 1973 Rehabilitation Act, a breakthrough federal law for people with disabilities by hearing a variety of experts-including U.S. Senator Tom Harkin-discuss the state of rights and protections for disabled americans. read more
All Content ©1996-2012 EOP, Inc.
Website by: