EQUAL
OPPORTUNITY

WOMAN
ENGINEER

MINORITY
ENGINEER

CAREERS &
the disABLED

WORKFORCE
DIVERSITY

HISPANIC
CAREER WORLD

AFRICAN-AMERICAN

CAREER WORLD

CAREERS & the disABLED Magazine, established in 1986, is the nation's first and only career-guidance and recruitment magazine for people with disabilities who are at undergraduate, graduate, or professional levels. Each issue features a special Braille section.

CAREERS & the disABLED has won many awards, including several media "Award of Excellence" acknowledgments from the President's Committee on Employment of People with Disabilities.

This magazine reaches people with disabilities nationwide at their home addresses, colleges and universities, and chapters of student and professional organizations through a paid subscription.
Subscribe Now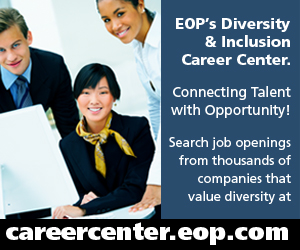 CAREERS & the disABLED

Featured Articles (Current Issue)
» Read Digital Edition
» Subscription Information
» Reader Survey
» Companies Actively Recruiting
Serving After Serving: Working For The Federal Government
Serving one's country doesn't have to end with one's military discharge. read more

Reality For Military Members Transitioning To Cilivan Jobs
Military members leaving the service may end up under utilizing their skills when transitioning to civilian careers, according to a new national survey from University of Phoenix. read more

Molding A Rewarding Career
Companies in the manufacturing and allied sectors value the skill sets, work ethic, and leadership these qualified verterans bring to the job. read more


Employer Diversity Leader
Merck's mission is to discover, develop, and provide innovate products and services that save and improve lives around the world. read more
All Content ©1996-2012 EOP, Inc.
Website by: