EQUAL
OPPORTUNITY

WOMAN
ENGINEER

MINORITY
ENGINEER

CAREERS &
the disABLED

WORKFORCE
DIVERSITY

HISPANIC
CAREER WORLD

AFRICAN-AMERICAN

CAREER WORLD

CAREERS & the disABLED Magazine, established in 1986, is the nation's first and only career-guidance and recruitment magazine for people with disabilities who are at undergraduate, graduate, or professional levels. Each issue features a special Braille section.

CAREERS & the disABLED has won many awards, including several media "Award of Excellence" acknowledgments from the President's Committee on Employment of People with Disabilities.

This magazine reaches people with disabilities nationwide at their home addresses, colleges and universities, and chapters of student and professional organizations through a paid subscription.
Subscribe Now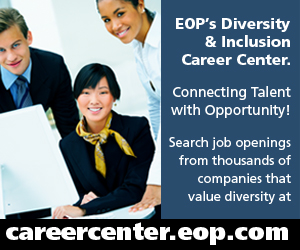 CAREERS & the disABLED

Featured Articles (Current Issue)
» Read Digital Edition
» Subscription Information
» Reader Survey
» Companies Actively Recruiting
Show Me The Money
Financial firms are welcoming in offering positions and internships to bright candidates with disabilities. read more

The Disabilities Treaty: Opening The World To Americans With Disabilities
To commemorate the 23rd anniversary of the Americans with Disabilities Act (ADA), Secretary of State John Kerry met with senior representatives of Veterans, Religious, Business, and Disability Rights Organizations, all of whom are advocates for the Disability Treaty. read more

For Many Workers The Boss's E-Mails Never Stop
For many workers the boss's e-mails never seem to stop, according to a survey by Right Management, a talent and career management experts within ManpowerGroup. Many bosses send employees e-mails after work hours and expect them to respond. read more


Job-Search Strategies For Persons With Disabilities
If you are living person, you are most likely faced with challenges every day. If you are a person living with a disability, you probably manage many more and many different challenges than others do. read more
All Content ©1996-2012 EOP, Inc.
Website by: