EQUAL
OPPORTUNITY

WOMAN
ENGINEER

MINORITY
ENGINEER

CAREERS &
the disABLED

WORKFORCE
DIVERSITY

HISPANIC
CAREER WORLD

AFRICAN-AMERICAN

CAREER WORLD

Minority Engineer Magazine, launched in 1979, is a career- guidance and recruitment magazine offered at no charge to qualified engineering or computer-science students and professionals who are African American, Hispanic, Native American, and Asian American. Minority Engineer presents career strategies for readers to assimilate into a diversified job marketplace.

This magazine reaches minority engineers and students nationwide at their home addresses, colleges and universities, and chapters of student and professional organizations.

If you are an engineering student or professional who is a member of a minority group, Minority Engineer is available to you FREE!
Subscribe Now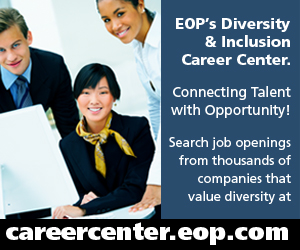 Minority Engineer

Featured Articles (Current Issue)
» Read Digital Edition
» Subscription Information
» Reader Survey
» Companies Actively Recruiting
All Systems Are Go
The U.S. Bureau Of Labor Statistics Declares "Computer Occupations" As Some Of The Most In-Demand Jobs Now And For The Foreseeable Future. read more

Construction Hiring Builds
During July 2013, more than 54,000 jobs were advertised online in the construction industry, a 26% year-over-year increase in demand, according to WANTED Analytics, a source of real-time business intelligence for the talent marketplace. This sector has seen slow, steady growth over the past three years. However, infrastructure, residential, and commercial construction continues in the US, causing a faster increase in hiring during 2013 so far. read more


Tips For Managers
Talent management expert Dr. Curtis L. Odom shares the crucial keys necessary for effective leader ship. Odom, principal and managing partner of Prescient Strategists, LLC, a consulting firm, suggests how managers can get the most out of young talent: read more


Five Tips To Become An Office All-Star
With competition in the business world running at a faster pace and more competitive than ever, the need for new and creative leadership is rapidly growing. Fulfilling this need has resulted in an influx of new employees penetrating the corporate landscape. read more
All Content ©1996-2012 EOP, Inc.
Website by: