EQUAL
OPPORTUNITY

WOMAN
ENGINEER

MINORITY
ENGINEER

CAREERS &
the disABLED

WORKFORCE
DIVERSITY

HISPANIC
CAREER WORLD

AFRICAN-AMERICAN

CAREER WORLD

Minority Engineer Magazine, launched in 1979, is a career- guidance and recruitment magazine offered at no charge to qualified engineering or computer-science students and professionals who are African American, Hispanic, Native American, and Asian American. Minority Engineer presents career strategies for readers to assimilate into a diversified job marketplace.

This magazine reaches minority engineers and students nationwide at their home addresses, colleges and universities, and chapters of student and professional organizations.

If you are an engineering student or professional who is a member of a minority group, Minority Engineer is available to you FREE!
Subscribe Now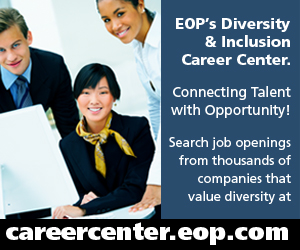 Minority Engineer

Featured Articles (Current Issue)
» Read Digital Edition
» Subscription Information
» Reader Survey
» Companies Actively Recruiting
Making People's Lives Better Through Engineering
Behind that flat-screen television hanging on your wall, the naSa space shuttle, or a state-of-the-art cancer screening device is…an engineer. The three profiled here have helped make life a bit easier and healthier for the country at large. read more

Ford Motor Company Makes 2015 World's Most Ethical Company List
The honor comes at a time in which the way a company conducts its business is viewed as every bit as important as the products and services it provides, new research shows. read more


Finisar Corporation: Changing The Way We Work And Live
To work in the fiber optics is to work in an industry that is constantly changing. This is what The'linh Nguyen sees in his position as senior analog engineer manager at Finisar Corporation, a top global supplier of optical subsystems and components and an innovation leader. read more

Zachry Group Donates $25 Million To Dwight Look College Of Engineering
Zachry Group, headquartered in San Antonio, has given a lead gift of $25 million to the Dwight Look College of Engineering at Texas A&M University. read more
All Content ©1996-2015 EOP, Inc.
Website by: