EQUAL
OPPORTUNITY

WOMAN
ENGINEER

MINORITY
ENGINEER

CAREERS &
the disABLED

WORKFORCE
DIVERSITY

HISPANIC
CAREER WORLD

AFRICAN-AMERICAN

CAREER WORLD

Minority Engineer Magazine, launched in 1979, is a career- guidance and recruitment magazine offered at no charge to qualified engineering or computer-science students and professionals who are African American, Hispanic, Native American, and Asian American. Minority Engineer presents career strategies for readers to assimilate into a diversified job marketplace.

This magazine reaches minority engineers and students nationwide at their home addresses, colleges and universities, and chapters of student and professional organizations.

If you are an engineering student or professional who is a member of a minority group, Minority Engineer is available to you FREE!
Subscribe Now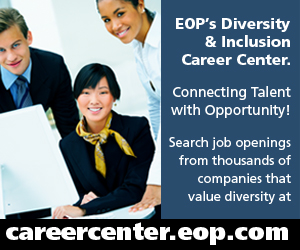 Minority Engineer

Featured Articles (Current Issue)
» Read Digital Edition
» Subscription Information
» Reader Survey
» Companies Actively Recruiting
Careers In Computing Catapult
Computers are a fact of life in today's world, both in our personal and professional lives. There are few industries that don't rely on the processing power of the computer to help get the job done. read more

Bayer Donates $100,000 To Help New Jersey Students
Earlier this month, Bayer Corporation presented a $100,000 two-year grant from the Bayer USA Foundation to Students 2 Science (S2S), Inc., an innovative STEM education organization that introduces elementary, middle, and high school students from Northern and Central New Jersey to real-world science and scientists at its professional laboratory in East Hanover and through its virtual lab program. read more


Lessons From Hiring Managers
Allieu Alghali is a systems engineer with NSA/CSS, who regularly does recruiting on campuses, and visits colleges and universities to speak with students about nationwide opportunities at the agency. read more


Chevron Internships
If your sights are set more toward the energy sector, you can participate in Chevron's engineering internship program. Most internships are offered during the summer; however, the company also offers some six-month assignments. read more
All Content ©1996-2012 EOP, Inc.
Website by: