EQUAL
OPPORTUNITY

WOMAN
ENGINEER

MINORITY
ENGINEER

CAREERS &
the disABLED

WORKFORCE
DIVERSITY

HISPANIC
CAREER WORLD

AFRICAN-AMERICAN

CAREER WORLD

Minority Engineer Magazine, launched in 1979, is a career- guidance and recruitment magazine offered at no charge to qualified engineering or computer-science students and professionals who are African American, Hispanic, Native American, and Asian American. Minority Engineer presents career strategies for readers to assimilate into a diversified job marketplace.

This magazine reaches minority engineers and students nationwide at their home addresses, colleges and universities, and chapters of student and professional organizations.

If you are an engineering student or professional who is a member of a minority group, Minority Engineer is available to you FREE!
Subscribe Now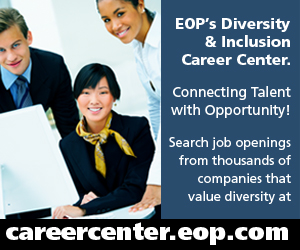 Minority Engineer

Featured Articles (Current Issue)
» Read Digital Edition
» Subscription Information
» Reader Survey
» Companies Actively Recruiting
Everyday Engineering
Take a quick glance around and count how many electronic devices are in the immediate vicinity. Regardless of your environment, chances are there are at least a handful of electronic devices in use, such as tablets, televisions, appliances, even overhead lighting. read more

Ford Motor SME Grants
It has been said that students who are inspired are happier individuals who perform better than those confined to an environment that lacks consistent and progressive encouragement. read more


Finding Internships That Pave The Way To Careers
With higher rates of un-or underemployment among college graduates in recent years, a national debate about the value of a college degree has gotten louder, especially as tuition continues to rise. read more


Library Of Congress Offers Internships
Now in its tenth year, the Library's Junior Fellows Summer Internship Program once again is offering special ten-week paid fellowships to college students. read more
All Content ©1996-2012 EOP, Inc.
Website by: