EQUAL
OPPORTUNITY

WOMAN
ENGINEER

MINORITY
ENGINEER

CAREERS &
the disABLED

WORKFORCE
DIVERSITY

HISPANIC
CAREER WORLD

AFRICAN-AMERICAN

CAREER WORLD

Minority Engineer Magazine, launched in 1979, is a career- guidance and recruitment magazine offered at no charge to qualified engineering or computer-science students and professionals who are African American, Hispanic, Native American, and Asian American. Minority Engineer presents career strategies for readers to assimilate into a diversified job marketplace.

This magazine reaches minority engineers and students nationwide at their home addresses, colleges and universities, and chapters of student and professional organizations.

If you are an engineering student or professional who is a member of a minority group, Minority Engineer is available to you FREE!
Subscribe Now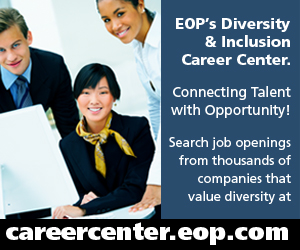 Minority Engineer

Featured Articles (Current Issue)
» Read Digital Edition
» Subscription Information
» Reader Survey
» Companies Actively Recruiting
More Than Entertainment Gadgets
As the saying goes, "the only constant is change," and few industries reflect this as much as consumer electronics. As consumer tastes and industry trends shift, coupled with technological advances, companies require engineers with strong problem-solving skills, flexibility and team-based approaches to designing and executing new products. read more

Northrop Grumman Engineers Receive Top Awards at 2013 NSBE Annual Convention
Northrop Grumman Corporation employees Cameron Dryden and Jamesha Parks received top awards at the 39th annual National Society of Black Engineers (NSBE) conference held March 27-31 in Indianapolis. read more


Practical Tips To Make Sure Your Career Doesn't Go Bust!
Eastman Kodak dominated Rochester, NY, for decades. The film giant's corporate headquarters were there and more than 60,000 people at one time worked for the company there. read more


STEM Leaders And Future Innovators
The Society of Hispanic Professional Engineers (SHPE) convened the largest Hispanic technical conference in North America, 2013 SHPE National Conference, hosted in Indianapolis. The conference was expected to draw more than 5,000 science, technology, engineering, and mathematics (STEM) students, professionals, and corporations to the Indianapolis Convention Center. read more
All Content ©1996-2012 EOP, Inc.
Website by: