EQUAL
OPPORTUNITY

WOMAN
ENGINEER

MINORITY
ENGINEER

CAREERS &
the disABLED

WORKFORCE
DIVERSITY

HISPANIC
CAREER WORLD

AFRICAN-AMERICAN

CAREER WORLD

Minority Engineer Magazine, launched in 1979, is a career- guidance and recruitment magazine offered at no charge to qualified engineering or computer-science students and professionals who are African American, Hispanic, Native American, and Asian American. Minority Engineer presents career strategies for readers to assimilate into a diversified job marketplace.

This magazine reaches minority engineers and students nationwide at their home addresses, colleges and universities, and chapters of student and professional organizations.

If you are an engineering student or professional who is a member of a minority group, Minority Engineer is available to you FREE!
Subscribe Now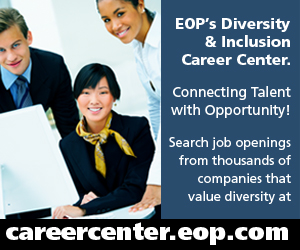 Minority Engineer

Featured Articles (Current Issue)
» Read Digital Edition
» Subscription Information
» Reader Survey
» Companies Actively Recruiting
Jobs Span Across All Industries
Mechanical engineering is one of the broadest engineering disciplines. Engineers with this background are able to touch down in a variety of job sectors. read more

More Hispanics Earning Physcial Sciences And Engineering Degrees
A new report from the American Institute of Physics (AIP) Statistical Research Center has found that the number of Hispanic students receiving bachelor's degrees in the physical sciences and engineering has increased over the last decade or so, passing 10,000 degrees per year for the first time in 2012. read more


Tech And Salary Jobs Continue Upward Trend
Salaries in the technology and creative fields are expected to continue their upward trend throughout 2015, ac - cording to the 2015 Salary Guides from staffing specialists Robert Half Technology and The Creative Group. read more

The Importance Of Teamwork: Going Far Together
In each of the three books I have written for the Every - body Paddles movement, I have emphasized the im - portance of teamwork. This is something I learned firsthand in my role as CEO of a not-for-profit organization. read more
All Content ©1996-2015 EOP, Inc.
Website by: