EQUAL
OPPORTUNITY

WOMAN
ENGINEER

MINORITY
ENGINEER

CAREERS &
the disABLED

WORKFORCE
DIVERSITY

HISPANIC
CAREER WORLD

AFRICAN-AMERICAN

CAREER WORLD

Minority Engineer Magazine, launched in 1979, is a career- guidance and recruitment magazine offered at no charge to qualified engineering or computer-science students and professionals who are African American, Hispanic, Native American, and Asian American. Minority Engineer presents career strategies for readers to assimilate into a diversified job marketplace.

This magazine reaches minority engineers and students nationwide at their home addresses, colleges and universities, and chapters of student and professional organizations.

If you are an engineering student or professional who is a member of a minority group, Minority Engineer is available to you FREE!
Subscribe Now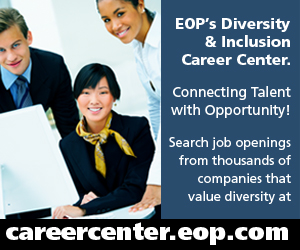 Minority Engineer

Featured Articles (Current Issue)
» Read Digital Edition
» Subscription Information
» Reader Survey
» Companies Actively Recruiting
For Security's Sake
Engineers play important roles to assure the security of our nation. They work for the Department of Defense itself and for companies that provide the products and services necessary to keep our military equipped and mission-ready. read more

Strong Knowledge Of GIS Opens Doors For Job Applicants
Professionals find that the job market demands even greater levels of education and expert knowledge. read more


Shed Bad Communication Habits
One or two bad communication habits is all it takes to cause a lifetime of trouble. And with today's quick and easy methods of communication, it's all too easy for bad habits to work their way in. You overreact to an Email— not for the first time—and send off a furious and damaging reply. Your spouse accuses you of not listening (again) and you have to sheepishly admit (again) that she's right. read more


Challenges Of A Diverse Workforce
Business growth depends on attracting and retaining a workforce with globally diverse values and demographics, according to a study sponsored by Success Factors, an SAP AG company and provider of cloud-based HCM software. read more
All Content ©1996-2012 EOP, Inc.
Website by: