EQUAL
OPPORTUNITY

WOMAN
ENGINEER

MINORITY
ENGINEER

CAREERS &
the disABLED

WORKFORCE
DIVERSITY

HISPANIC
CAREER WORLD

AFRICAN-AMERICAN

CAREER WORLD

Hispanic Career World Magazine, launched in 2001 is the recruitment link between students and professionals who are Hispanic and the employers that seek to hire them. This publication offers career-guidance columns, news, and feature articles that profile Hispanics in all fields.

This magazine reaches students, graduate students and professionals in all careers at their home addresses.

If you are a Hispanic college student or professional, Hispanic Career World is available to you FREE!
Subscribe Now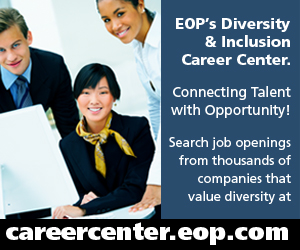 Hispanic Career World

» Featured Articles (Current Issue)
» Read Digital Edition
» Subscription Information
» Reader Survey
» Companies Actively Recruiting
The Miracle Maker
This sector appeals to those who are looking to make a difference in the lives of people everyday. read more


Univeristy Of PA Lauches Center For Minority-Serving Institutions
The University of Pennsylvania's Graduate School of Education launch ed its new Center for Minority-Serving Institutions (CMSI) in late January 2014. read more



Most Job Seekers Search Online
According to a survey by talent mobility consulting firm Lee Hecht Harrison, nearly all job seekers report having some online presence. read more

Careers In Banking: A Worthwhile Investment
The need for bilingual personnel in the financial arena is set for growth. FIRST NIAGARA BANK: Getting Ahead By Learning From Others read more
All Content ©1996-2012 EOP, Inc.
Website by: