EQUAL
OPPORTUNITY

WOMAN
ENGINEER

MINORITY
ENGINEER

CAREERS &
the disABLED

WORKFORCE
DIVERSITY

HISPANIC
CAREER WORLD

AFRICAN-AMERICAN

CAREER WORLD

Hispanic Career World Magazine, launched in 2001 is the recruitment link between students and professionals who are Hispanic and the employers that seek to hire them. This publication offers career-guidance columns, news, and feature articles that profile Hispanics in all fields.

This magazine reaches students, graduate students and professionals in all careers at their home addresses.

If you are a Hispanic college student or professional, Hispanic Career World is available to you FREE!
Subscribe Now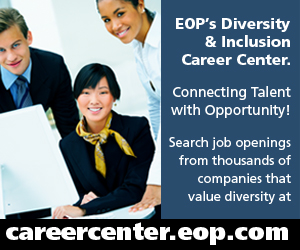 Hispanic Career World

» Featured Articles (Current Issue)
» Read Digital Edition
» Subscription Information
» Reader Survey
» Companies Actively Recruiting
Hospitality/Gaming Careers
According to the world Travel & Tourism Council, the hospitality industry is currently one of the largest and fastest-growing industries worldwide, forecasted to support 328 million jobs by 2022, or 10% of the global workforce. read more


University Of Pennsylvania Launches Center For Minority-Serving Institutions
The University of Pennsylvania's Graduate School of Education launch ed its new Center for Minority-Serving Institutions (CMSI) in late January 2014, to bring together researchers and practitioners from Hispanic- Serving Institutions (HSI); Historically Black Colleges and Universities (HBCU); Tribal Colleges and Universities (TCU); and Asian American and Native American Pacific Islander-Serving Institutions (AANAPISI). read more



CareerBuilder Survey Ranks Best And Worst Words To Use In A Resume
One in six (17%) hiring managers spend 30 seconds or less, on average, reviewing resumes, according to a new Career- Builder survey. A majority, 68%, spend less than two minutes. With so little time to capture interest, even a candi date's word choice can make a difference. The nationwide sample of employers identified which commonly used resume terms are overused or cliché and which are strong additions. read more

New Job Opportunities
A vast majority of North American employees plan to pursue new job opportunities in 2014, according to a poll by Right Management, the talent and career management experts within ManpowerGroup. read more
All Content ©1996-2012 EOP, Inc.
Website by: