EQUAL
OPPORTUNITY

WOMAN
ENGINEER

MINORITY
ENGINEER

CAREERS &
the disABLED

WORKFORCE
DIVERSITY

HISPANIC
CAREER WORLD

AFRICAN-AMERICAN

CAREER WORLD

Hispanic Career World Magazine, launched in 2001 is the recruitment link between students and professionals who are Hispanic and the employers that seek to hire them. This publication offers career-guidance columns, news, and feature articles that profile Hispanics in all fields.

This magazine reaches students, graduate students and professionals in all careers at their home addresses.

If you are a Hispanic college student or professional, Hispanic Career World is available to you FREE!
Subscribe Now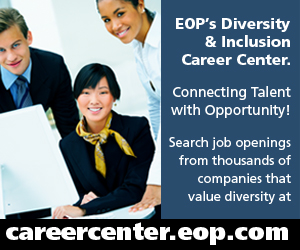 Hispanic Career World

» Featured Articles (Current Issue)
» Read Digital Edition
» Subscription Information
» Reader Survey
» Companies Actively Recruiting
Money Matters
With the economy largely recovered from the Great Recession, demand for finance-related jobs is on the upswing. In fact, a recent survey from CareerBuilder and moneyjobs.com reported that 35 percent of employers in the financial services sector planned to add positions. read more


Set Your Sights On Insurance Sales For A High-Growth Career
Growth of the U.S. Hispanic population nationwide is leading to more jobs and career opportunities for multilingual supplemental insurance sales agents and managers. read more



Acing AnyType Of Interview
There are six different types of job interviews to master. read more

Pita Pit: Brothers Work Their Way Up From Employees To Ownership
Since 1995, Ontario-based Pita Pit has been serving up Mediterranean style sandwiches. The growing business expanded into the U.S. in 1999 and was soon feeding pita fans in 11 countries. read more
All Content ©1996-2015 EOP, Inc.
Website by: