EQUAL
OPPORTUNITY

WOMAN
ENGINEER

MINORITY
ENGINEER

CAREERS &
the disABLED

WORKFORCE
DIVERSITY

HISPANIC
CAREER WORLD

AFRICAN-AMERICAN

CAREER WORLD

Hispanic Career World Magazine, launched in 2001 is the recruitment link between students and professionals who are Hispanic and the employers that seek to hire them. This publication offers career-guidance columns, news, and feature articles that profile Hispanics in all fields.

This magazine reaches students, graduate students and professionals in all careers at their home addresses.

If you are a Hispanic college student or professional, Hispanic Career World is available to you FREE!
Subscribe Now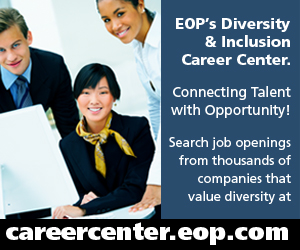 Hispanic Career World

» Featured Articles (Current Issue)
» Read Digital Edition
» Subscription Information
» Reader Survey
» Companies Actively Recruiting
Pharmaceutical/Biomedical Industry Offering Diverse Opportunities
The industry has consolidated many services, research initiatives, medical and consumer products, leaving a few mega corporations that do it all. Within those multi-location companies is a need for administrators, office personnel, equipment technicians, communications personnel, and a variety of technical assistants, as well as chemists, biologists, engineers and medical doctors. That's good news for job seekers. read more


Univision Anchor Receives Hispanic TV Award
Maria Elena Salinas, the network news co-anchor for Univision's Noticiero Univision and co-host of the highly rated news magazine program Aqui y Ahora, is the receipient the prestigious 2013 Award for Achievement in Hispanic Television. read more



Employers Share Most Memorable Things Candidates Did To Stand Out
Would you hire job seekers who sang their interview, dressed as a clown, or printed their resume on a chocolate bar? read more

AT&T Named Best WorkPlace For Latinas
Hispanic women looking for a great place to work, learn, grow and lead will find a wide range of opportunities at AT&T, according to LATINA Style. The magazine selected AT&T as its Company of the Year for 2013 from among more than 800 companies evaluated, making AT&T the first company to win the award twice. read more
All Content ©1996-2012 EOP, Inc.
Website by: