EQUAL
OPPORTUNITY

WOMAN
ENGINEER

MINORITY
ENGINEER

CAREERS &
the disABLED

WORKFORCE
DIVERSITY

HISPANIC
CAREER WORLD

AFRICAN-AMERICAN

CAREER WORLD

Hispanic Career World Magazine, launched in 2001 is the recruitment link between students and professionals who are Hispanic and the employers that seek to hire them. This publication offers career-guidance columns, news, and feature articles that profile Hispanics in all fields.

This magazine reaches students, graduate students and professionals in all careers at their home addresses.

If you are a Hispanic college student or professional, Hispanic Career World is available to you FREE!
Subscribe Now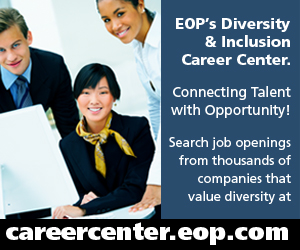 Hispanic Career World

» Featured Articles (Current Issue)
» Read Digital Edition
» Subscription Information
» Reader Survey
» Companies Actively Recruiting
New Gov Regulations, New Job Opportunites
As a result of the recent financial crisis, President Obama in July 2010 signed into law the Dodd-Frank Wall Street Reform and Consumer Protection Act. "Dodd-Frank," as it's called, has forced many changes in the banking and financial services industry. For those working in the industry, or those considering entering it, it means future opportunities in client service and support, sales, training, marketing, and operations. Here are four people who are currently working in the industry. read more


Perez As U.S. Secretary Of Labor Welcomed by National Latino Leaders
President Barack Obama has nominated Thomas Perez to be the nation's Secretary of Labor after serving as the Department of Justice's assistant attorney general. read more



Jobseekers Feel Unprepared In Key Areas
Seventy-six percent of job seekers report that when preparing for a job search, they need to improve fundamental job search skills, including developing a resume, targeting open positions and conducting a persuasive interview, according to a survey by talent mobility consulting firm Lee Hecht Harrison. read more

AT&T Named Best WorkPlace For Latinas
Hispanic women looking for a great place to work, learn, grow and lead will find a wide range of opportunities at AT&T, according to LATINA Style. The magazine selected AT&T as its Company of the Year for 2013 from among more than 800 companies evaluated, making AT&T the first company to win the award twice. read more
All Content ©1996-2012 EOP, Inc.
Website by: