EQUAL
OPPORTUNITY

WOMAN
ENGINEER

MINORITY
ENGINEER

CAREERS &
the disABLED

WORKFORCE
DIVERSITY

HISPANIC
CAREER WORLD

AFRICAN-AMERICAN

CAREER WORLD

Hispanic Career World Magazine, launched in 2001 is the recruitment link between students and professionals who are Hispanic and the employers that seek to hire them. This publication offers career-guidance columns, news, and feature articles that profile Hispanics in all fields.

This magazine reaches students, graduate students and professionals in all careers at their home addresses.

If you are a Hispanic college student or professional, Hispanic Career World is available to you FREE!
Subscribe Now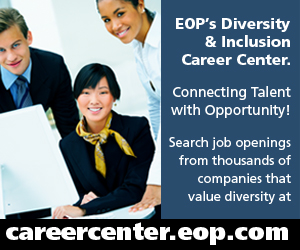 Hispanic Career World

» Featured Articles (Current Issue)
» Read Digital Edition
» Subscription Information
» Reader Survey
» Companies Actively Recruiting
A Worldwide Name In Consulting
McKinsey & Company is a global management consulting firm that serves top businesses, governments, non-governmental organizations, and not-for-profits. With over 9,000 consultants and 2,000 research and information professionals in over 60 countries, McKinsey & Company has positioned itself as a worldwide leading name in consulting. read more


Latinos In STEM
In its recently published report, "Finding Your Workforce: Latinos in Science, Technology, Engineering, and Math (STEM)," Excelencia in Education identifies the top institutions graduating Latinos in STEM disciplines for 2012-13, and spotlights replicable practices and efforts at select colleges and universities. read more



Finding Success In Post-Military Careers
Veterans transition into the civilian workforce in different ways. They can do it through veteran's organizations, veteran-friendly companies, or through friends and fellow vets. read more

CHCI Launches Online Database to Develop the Next Generation of Latino Leaders
Congressional Hispanic Caucus Institute, with support from State Farm, launched CHCI NextOpp, an online database that provides Latino students access to academic and professional opportunities from middle school to graduate school. read more
All Content ©1996-2015 EOP, Inc.
Website by: