EQUAL
OPPORTUNITY

WOMAN
ENGINEER

MINORITY
ENGINEER

CAREERS &
the disABLED

WORKFORCE
DIVERSITY

HISPANIC
CAREER WORLD

AFRICAN-AMERICAN

CAREER WORLD

Hispanic Career World Magazine, launched in 2001 is the recruitment link between students and professionals who are Hispanic and the employers that seek to hire them. This publication offers career-guidance columns, news, and feature articles that profile Hispanics in all fields.

This magazine reaches students, graduate students and professionals in all careers at their home addresses.

If you are a Hispanic college student or professional, Hispanic Career World is available to you FREE!
Subscribe Now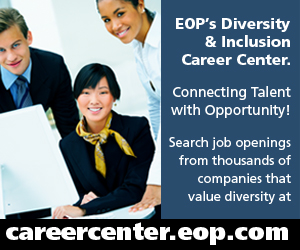 Hispanic Career World

» Featured Articles (Current Issue)
» Read Digital Edition
» Subscription Information
» Reader Survey
» Companies Actively Recruiting
Turn On Your Career Potential
Energy powers the modern world, and while the general public isn't apt to think how integral power companies are to their lives, at least not on a daily basis, all it takes is a "power outage" for that point to hit home. The gas, utilities, and energy sector is also critical to local economies and job markets. read more


MEDA's Luis Granados Honored with San Francisco Foundation
The San Francisco Foundation (TSSF) is to honor Mission Economic Development Agency (MEDA) executive director Luis Granados with a 2014 Community Leadership Award at its annual event, slated for October 7th. read more



Finding Fulfillment in Franchising
Discover the challenges and successes of the multi-faceted world of franchising. These motivated and inspiring individuals speak candidly about their careers, both at the corporate level and as franchise owners. read more

Teach For America Selected For 2014 Latina Style 50 Report
LATINA Style Inc., a leading company addressing the needs of the Latina professional and business owner in the U.S., announced that Teach For America is among the 50 companies selected for its 2014 LATINA Style 50 report. read more
All Content ©1996-2012 EOP, Inc.
Website by: