EQUAL
OPPORTUNITY

WOMAN
ENGINEER

MINORITY
ENGINEER

CAREERS &
the disABLED

WORKFORCE
DIVERSITY

HISPANIC
CAREER WORLD

AFRICAN-AMERICAN

CAREER WORLD

Hispanic Career World Magazine, launched in 2001 is the recruitment link between students and professionals who are Hispanic and the employers that seek to hire them. This publication offers career-guidance columns, news, and feature articles that profile Hispanics in all fields.

This magazine reaches students, graduate students and professionals in all careers at their home addresses.

If you are a Hispanic college student or professional, Hispanic Career World is available to you FREE!
Subscribe Now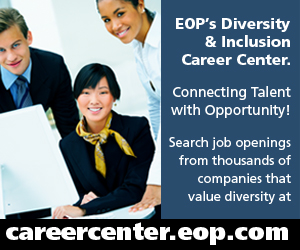 Hispanic Career World

» Featured Articles (Current Issue)
» Read Digital Edition
» Subscription Information
» Reader Survey
» Companies Actively Recruiting
The Computer Science Field
The ultimate alchemists power the computer science sector. Once upon a time, alchemists vainly strived to transmute base metals, like dull lead and iron, to glittering silver and gold. read more


SunEdison And Grid Alternatives Annouce Major Solar Workforce Initiative
SunEdison, Inc., a leading renewable energy development company, and the SunEdison Foundation, announced a $5 million contribution to their philanthropic partnership with GRID Alternatives, a leading nonprofit solar installer. read more



Finding Fulfillment in Franchising
Discover the challenges and successes of the multi-faceted world of franchising. These motivated and inspiring individuals speak candidly about their careers, both at the corporate level and as franchise owners. read more

Most Job Seekers Search Online
According to a survey by talent mobility consulting firm Lee Hecht Harrison, nearly all job seekers report having some online presence. read more
All Content ©1996-2012 EOP, Inc.
Website by: