EQUAL
OPPORTUNITY

WOMAN
ENGINEER

MINORITY
ENGINEER

CAREERS &
the disABLED

WORKFORCE
DIVERSITY

HISPANIC
CAREER WORLD

AFRICAN-AMERICAN

CAREER WORLD

African-American Career World Magazine, launched in 2001, is the recruitment link between students and professionals who are African American and the employers that seek to hire them. The publication includes career strategies, industry trends, and role-model profiles that target the African-American community.

This magazine reaches students, graduate students and professionals at their home addresses.

If you are an African-American college student or professional, African-American Career World is available to you FREE!
Subscribe Now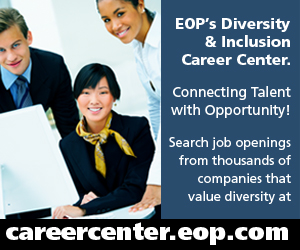 African-American
Career World

» Featured Articles (Current Issue)
» Read Digital Edition
» Subscription Information
» Reader Survey
» Companies Actively Recruiting
Connecting Nearly Everyone And Everything
Circling satellites, networks of cell towers, and strands of cable more complex than the fanciest snowflake keep us connected to nearly everyone and everything. Today's cell phones surpass the processing capacity of yesteryears' supercomputers, and television reception delivers resolution that make it seem as if George Clooney is in our living rooms. read more

National Black MBA Association Selects Jesse J. Tyson as President
The National Black MBA Association announced the appointment of Jesse J. Tyson to serve as president and chief executive officer. read more

Attracting A Diverse Workforce At Manheim/Auto Trader Group
Manheim and the Autotrader Group are subsidiaries of Cox Enterprises, a leading communications, media, and automotive services company with revenues of nearly $15 billion and more than 50,000 employees. Manheim is a global provider of vehicle remarketing services, connecting buyers and sellers of used vehicles to the wholesale used-vehicle marketplace. The company helps dealer and commercial customers achieve results by providing physical and digital auction channels, data analysis, financing, transportation, and mobile products and solutions. read more

Succedd In Today's Workforce: 10 Tips From BA To Boardroom

Today's college students and graduates are competing in an ever-expanding workforce, both here in America and on a global basis. Finding ways to differentiate yourself based solely on the technical knowledge you possess is increasingly challenging. read more
All Content ©1996-2012 EOP, Inc.
Website by: