EQUAL
OPPORTUNITY

WOMAN
ENGINEER

MINORITY
ENGINEER

CAREERS &
the disABLED

WORKFORCE
DIVERSITY

HISPANIC
CAREER WORLD

AFRICAN-AMERICAN

CAREER WORLD

African-American Career World Magazine, launched in 2001, is the recruitment link between students and professionals who are African American and the employers that seek to hire them. The publication includes career strategies, industry trends, and role-model profiles that target the African-American community.

This magazine reaches students, graduate students and professionals at their home addresses.

If you are an African-American college student or professional, African-American Career World is available to you FREE!
Subscribe Now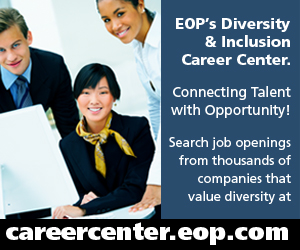 African-American
Career World

» Featured Articles (Current Issue)
» Read Digital Edition
» Subscription Information
» Reader Survey
» Companies Actively Recruiting
Federal Government -A Top Employer
One of the earliest to integrate the workforce, the federal government continues to be a top employer of African Americans. The jobs available cover a deep array of activities that impact the lives of American on a daily basis. read more

Opinions On Race In America Are Influenced By Race
American public opinion on race relations, opportunity, and discrimination is divided by race, according to a new poll by the Emerson College Polling Society. read more

How To Get Hired Right Out Of College
With higher rates of un—or— underemployment among college graduates in recent years, a national debate about the value of a college degree has gotten louder, especially as tuition continues to rise. read more

St. Mary's College President Honored As Scientist, Leader In Education
The National Coalition of 100 Black Women, Baltimore Metropolitan Chapter, has presented Tuajuanda C. Jordan, president of St. Mary's College of Maryland, with its Torchbearer Award. read more
All Content ©1996-2012 EOP, Inc.
Website by: