EQUAL
OPPORTUNITY

WOMAN
ENGINEER

MINORITY
ENGINEER

CAREERS &
the disABLED

WORKFORCE
DIVERSITY

HISPANIC
CAREER WORLD

AFRICAN-AMERICAN

CAREER WORLD

African-American Career World Magazine, launched in 2001, is the recruitment link between students and professionals who are African American and the employers that seek to hire them. The publication includes career strategies, industry trends, and role-model profiles that target the African-American community.

This magazine reaches students, graduate students and professionals at their home addresses.

If you are an African-American college student or professional, African-American Career World is available to you FREE!
Subscribe Now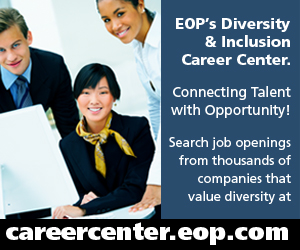 African-American
Career World

» Featured Articles (Current Issue)
» Read Digital Edition
» Subscription Information
» Reader Survey
» Companies Actively Recruiting
Generating Wealth, Safeguarding The Future
Long a staple in the career arena, the insurance sector is increasingly becoming a sought after career for African-American professionals. read more

First Non-HCBU African-American Dean of Engineering Receives NSF Grant
Dr. Gilda Barabino, who has served as dean of the Grove School of Engineering at The City College of New York since fall 2013, was awarded a $188,000 grant from the National Science Foundation's ADVANCE initiative. read more

Job Search Tips Learned From the Kansas City Royals Baseball Team
The Kansas City Royals competed in the World Series by playing "small ball." This strategy is something executives could all use when searching for their next career position. read more

Comercia Bank and FHLB Dallas Present Grant to Greater Houston Black Chamber Foundation
A $29,000 Partnership Grant Program (PGP) award was presented to the Greater Houston Black Chamber Foundation October 29 from Comerica Bank and the Federal Home Loan Bank of Dallas (FHLB Dallas). read more
All Content ©1996-2012 EOP, Inc.
Website by: