EQUAL
OPPORTUNITY

WOMAN
ENGINEER

MINORITY
ENGINEER

CAREERS &
the disABLED

WORKFORCE
DIVERSITY

HISPANIC
CAREER WORLD

AFRICAN-AMERICAN

CAREER WORLD

African-American Career World Magazine, launched in 2001, is the recruitment link between students and professionals who are African American and the employers that seek to hire them. The publication includes career strategies, industry trends, and role-model profiles that target the African-American community.

This magazine reaches students, graduate students and professionals at their home addresses.

If you are an African-American college student or professional, African-American Career World is available to you FREE!
Subscribe Now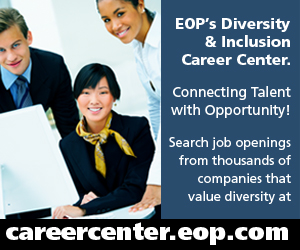 African-American
Career World

» Featured Articles (Current Issue)
» Read Digital Edition
» Subscription Information
» Reader Survey
» Companies Actively Recruiting
To Serve And Protect
For the four individuals spotlighted below, joining the military or working for the government were not inspired by a desire for a big pay check. Instead, they followed their calling to make a difference, whether on the home front, like Director of External Affairs for the U.S. Health and Human Services Anton J. Gunn, or on a global basis, like Jordan, a counter terrorism expert with the Central Intelligence Agency.. read more

Siebert Financial Corp. Appoints Suzanne Shank As Acting CEO
Siebert Financial Corporation appointed Suzanne Shank acting CEO of the company and its wholly owned subsidiary, Muriel Siebert & Co., Inc. the discount broker/dealer and institutional investment bank. read more

Study Shows African Americans Are Biggest Users Of Online Job Search
African Americans are more likely than the public at large to use the Internet to look for a job, particularly when it comes to using mobile devices and social media for that purpose, according to research unveiled in November by the Joint Center for Political and Economic Studies. read more

Biz Crisis Symposium
The Bill & Melinda Gates Foundation and Black Enterprise magazine joined forces on Nov. 7 to present a symposium titled "Today's Business Crisis: Educating Tomorrow's Workforce" in Memphis. read more
All Content ©1996-2012 EOP, Inc.
Website by: