EQUAL
OPPORTUNITY

WOMAN
ENGINEER

MINORITY
ENGINEER

CAREERS &
the disABLED

WORKFORCE
DIVERSITY

HISPANIC
CAREER WORLD

AFRICAN-AMERICAN

CAREER WORLD

African-American Career World Magazine, launched in 2001, is the recruitment link between students and professionals who are African American and the employers that seek to hire them. The publication includes career strategies, industry trends, and role-model profiles that target the African-American community.

This magazine reaches students, graduate students and professionals at their home addresses.

If you are an African-American college student or professional, African-American Career World is available to you FREE!
Subscribe Now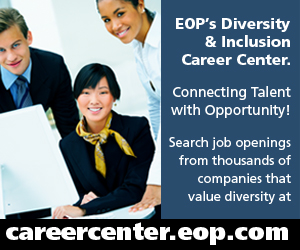 African-American
Career World

» Featured Articles (Current Issue)
» Read Digital Edition
» Subscription Information
» Reader Survey
» Companies Actively Recruiting
Generating Wealth, Safeguarding The Future
Long a staple in the career arena, the insurance sector is increasingly becoming a sought after career for African-American professionals. read more

First Non-HCBU African-American Dean of Engineering Receives NSF Grant
Dr. Gilda Barabino, who has served as dean of the Grove School of Engineering at The City College of New York since fall 2013, was awarded a $188,000 grant from the National Science Foundation's ADVANCE initiative. read more

Constructing Empowering Goals That Set You Up For Success
"Goal setting" is a popular topic this time of year; however, we can get a little ahead of ourselves – or just plain confused – when it comes to knowing what we want and/ or how to get there. read more

EY Program Introduces Minority Students To Accounting
Accounting powerhouse EY held its ninth annual Discover EY program on January 6-9 at its headquarters in New York City, designed to help college students develop leadership skills and become more aware of opportunities in the profession and at the firm. read more
All Content ©1996-2015 EOP, Inc.
Website by: