EQUAL
OPPORTUNITY

WOMAN
ENGINEER

MINORITY
ENGINEER

CAREERS &
the disABLED

WORKFORCE
DIVERSITY

HISPANIC
CAREER WORLD

AFRICAN-AMERICAN

CAREER WORLD

African-American Career World Magazine, launched in 2001, is the recruitment link between students and professionals who are African American and the employers that seek to hire them. The publication includes career strategies, industry trends, and role-model profiles that target the African-American community.

This magazine reaches students, graduate students and professionals at their home addresses.

If you are an African-American college student or professional, African-American Career World is available to you FREE!
Subscribe Now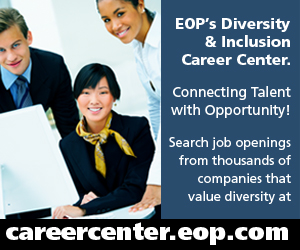 African-American
Career World

» Featured Articles (Current Issue)
» Read Digital Edition
» Subscription Information
» Reader Survey
» Companies Actively Recruiting
Healthcare Behind The Scenes
Hospital administrators may not work on the bed-side of patient care, but their administrative roles are just as crucial as a doctor's. read more

Morehouse College Receives $700,000 In Software Technology
The Thurgood Marshall College Fund (TMCF) awarded over $700,000 in Microsoft software from its ongoing Technology Initiative to Morehouse College – the first non- TMCF member-school to receive such support. read more

Straight From The Top
Sha Farley is currently the vice president of human resources for Sam's Club, a division of Wal-Mart Stores, Inc. In this role, she leads field HR efforts for the leading membership warehouse club with 646 locations in the U.S. and Puerto Rico. read more

The 12 Types of Bosses And How To Deal With Them
There are 12 types of bosses, each with a different management style, says Geoffrey James, a veteran business journalist. read more
All Content ©1996-2015 EOP, Inc.
Website by: