EQUAL
OPPORTUNITY

WOMAN
ENGINEER

MINORITY
ENGINEER

CAREERS &
the disABLED

WORKFORCE
DIVERSITY

HISPANIC
CAREER WORLD

AFRICAN-AMERICAN

CAREER WORLD

African-American Career World Magazine, launched in 2001, is the recruitment link between students and professionals who are African American and the employers that seek to hire them. The publication includes career strategies, industry trends, and role-model profiles that target the African-American community.

This magazine reaches students, graduate students and professionals at their home addresses.

If you are an African-American college student or professional, African-American Career World is available to you FREE!
Subscribe Now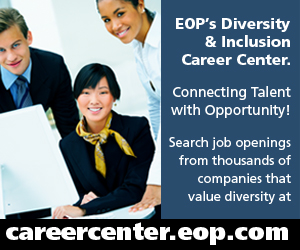 African-American
Career World

» Featured Articles (Current Issue)
» Read Digital Edition
» Subscription Information
» Reader Survey
» Companies Actively Recruiting
Insurance: A Path To Success
Even before the emergence of the Affordable Care Act, the insurance industry beckoned to new college graduates with lucrative positions in accounting, law, engineering, nursing, IT, finance, and marketing. Today, the industry offers a wide range of paths to move from entry-level positions into executive management offices, say these four insurance executives. read more

Opinions On Race In America Are Influenced By Race
American public opinion on race relations, opportunity, and discrimination is divided by race, according to a new poll by the Emerson College Polling Society. read more

Shawneen Thompson Is Named VP and GM Of Radio One's PA Market
In December, Radio One, Inc. named Shawneen Thompson vice president and general manager of its Philadelphia radio stations. read more

Information Technology Job Opportunities Continue
Industry reports show this career path trending upward, as demand for talent still outstrips supply. read more
All Content ©1996-2012 EOP, Inc.
Website by: