EQUAL
OPPORTUNITY

WOMAN
ENGINEER

MINORITY
ENGINEER

CAREERS &
the disABLED

WORKFORCE
DIVERSITY

HISPANIC
CAREER WORLD

AFRICAN-AMERICAN

CAREER WORLD

Workforce Diversity For Engineering And IT Professionals Magazine, established in 1994, is the first magazine published for the professional, diversified high-tech workforce, which encompasses everyone, including women, members of minority groups, people with disabilities, and non-disabled white males to advance in the diversified working community.

This magazine reaches engineering or information technology graduate students or professionals nationwide at their home addresses.

If you are an engineering/IT graduate student or professional, Workforce Diversity for Engineering & IT Professionals is available to you FREE!
Subscribe Now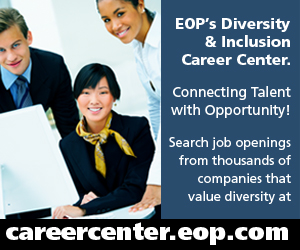 Workforce Diversity

Featured Articles (Current Issue)
» Read Digital Edition
» Subscription Information
» Reader Survey
» Companies Actively Recruiting
Product Management: A Multifaceted Job
No matter the size or scope of a company involved in manufacturing, product management is a must. And although the job of product managers may vary according to product, the fundamental charge of product managers is essentially the same – they are the go-to persons for information and questions concerning product lifecycle. read more


VA Tech Honors Engineer For Her Career Achievements
Regina Dugan of Sunnyvale, Calif., who earned her bachelor's and master's degrees in mechanical engineering from Virginia Tech University in 1984 and 1985, is a 2013 inductee into Virginia Tech's College of Engineering Academy of Engineering Excellence, joining an elite group of 119 individuals out of more than 60,000 living engineering alumni. read more


Understanding Diversity Of Employees Through Generational Differences
"Baby boomers don't know anything about technology and Gen Y's are very impatient." These kinds of stereotypes of people in different age groups are widespread in the world of employment, but management consultant Tammy Erickson is convinced that they are not helpful. read more

Engineers Feel Secure In Jobs; 'Demand High'
The latest Randstad Engineering Employee Confidence Index, a measure of overall confidence among U.S. engineers, found that more workers are feeling secure in their current jobs. read more
All Content ©1996-2012 EOP, Inc.
Website by: