EQUAL
OPPORTUNITY

WOMAN
ENGINEER

MINORITY
ENGINEER

CAREERS &
the disABLED

WORKFORCE
DIVERSITY

HISPANIC
CAREER WORLD

AFRICAN-AMERICAN

CAREER WORLD

Workforce Diversity For Engineering And IT Professionals Magazine, established in 1994, is the first magazine published for the professional, diversified high-tech workforce, which encompasses everyone, including women, members of minority groups, people with disabilities, and non-disabled white males to advance in the diversified working community.

This magazine reaches engineering or information technology graduate students or professionals nationwide at their home addresses.

If you are an engineering/IT graduate student or professional, Workforce Diversity for Engineering & IT Professionals is available to you FREE!
Subscribe Now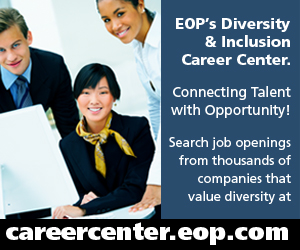 Workforce Diversity

Featured Articles (Current Issue)
» Read Digital Edition
» Subscription Information
» Reader Survey
» Companies Actively Recruiting
Success For Chemical Engineers?
How to have success in the workplace? The chemical engineers highlited in this article each have their own formula. read more


Social Media Profiles
A survey of more than 7,000 recruitment companies, HR managers, and recruiters in the U.S. has found 64% have rejected a job application after looking at a candidate's social media profile. read more


Networking Tips
Christine Bronstein, founder of the private women's networking group A Band Of Women, offers key tips and statistics to get you connected and remembered while career searching. read more

Happiest Companies In America To Work
After thousands of independent employee reviews and analysis of hundreds of companies, CareerBliss released the 4th annual CareerBliss "50 Happiest Companies in America," honoring the top companies dedicated to cultivating happier work environments. read more
All Content ©1996-2012 EOP, Inc.
Website by: