EQUAL
OPPORTUNITY

WOMAN
ENGINEER

MINORITY
ENGINEER

CAREERS &
the disABLED

WORKFORCE
DIVERSITY

HISPANIC
CAREER WORLD

AFRICAN-AMERICAN

CAREER WORLD

Workforce Diversity For Engineering And IT Professionals Magazine, established in 1994, is the first magazine published for the professional, diversified high-tech workforce, which encompasses everyone, including women, members of minority groups, people with disabilities, and non-disabled white males to advance in the diversified working community.

This magazine reaches engineering or information technology graduate students or professionals nationwide at their home addresses.

If you are an engineering/IT graduate student or professional, Workforce Diversity for Engineering & IT Professionals is available to you FREE!
Subscribe Now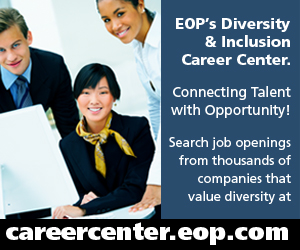 Workforce Diversity

Featured Articles (Current Issue)
» Read Digital Edition
» Subscription Information
» Reader Survey
» Companies Actively Recruiting
From Start To Finish, A Career In Project Management Pays Off
In many ways, the process of project management reads a lot like a novel - both have a beginning, middle, and end. The beginning of a novel establishes the story's framework and describes pertinent background information on each character. As the story progresses, details are revealed and the plot evolves. Finally, loose ends are tied up, bringing the characters and story to a logical conclusion. read more


Professional Success Depends On Rapport With Colleagues
"Many people believe they have to worry about pleasing only their higher-ups," says Ben Carpenter, author of the new book The Big events give jobseekers an opportunity to meet prospective employers and make an impression that could lead to employment. read more


Resume Tips For The Online World
In today's fast-paced and online world, it's essential to have job-search materials available in virtual formats. Job hunters must be aware of how résumés will appear across devices and models to ensure their résumé is legible. read more

Top Perks Job Seekers Crave
"Health Insurance heads list as the most important benefit to those in the job market. read more
All Content ©1996-2012 EOP, Inc.
Website by: