EQUAL
OPPORTUNITY

WOMAN
ENGINEER

MINORITY
ENGINEER

CAREERS &
the disABLED

WORKFORCE
DIVERSITY

HISPANIC
CAREER WORLD

AFRICAN-AMERICAN

CAREER WORLD

Workforce Diversity For Engineering And IT Professionals Magazine, established in 1994, is the first magazine published for the professional, diversified high-tech workforce, which encompasses everyone, including women, members of minority groups, people with disabilities, and non-disabled white males to advance in the diversified working community.

This magazine reaches engineering or information technology graduate students or professionals nationwide at their home addresses.

If you are an engineering/IT graduate student or professional, Workforce Diversity for Engineering & IT Professionals is available to you FREE!
Subscribe Now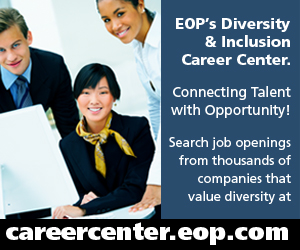 Workforce Diversity

Featured Articles (Current Issue)
» Read Digital Edition
» Subscription Information
» Reader Survey
» Companies Actively Recruiting
From Start To Finish, A Career In Project Management Pays Off
In many ways, the process of project management reads a lot like a novel - both have a beginning, middle, and end. The beginning of a novel establishes the story's framework and describes pertinent background information on each character. As the story progresses, details are revealed and the plot evolves. Finally, loose ends are tied up, bringing the characters and story to a logical conclusion. read more


Keeping The World Connected
An undergraduate liberal arts degree plus a master's degree in technical communications is a winning combination for LaNaya Wattree, an analyst in corporate strategy at CenturyLink. Why that particular combination of degrees? "I was fascinated by the idea of taking very technical information about a concept and being able to convey it in a way that is clear and concise, making sure that it's coherent, concrete, and for a specific audience while using different forms of media," she explains. read more


A Job Seeker's Market
Nineteen percent of U.S. chief information officers (CIOs) surveyed recently plan to expand their information technology (IT) teams in the first six months of 2015, according to the newly released Robert Half Technology IT Hiring Forecast and Local Trend Report. read more

A Toytota Engineer's Love For Horses Powers The Goal Of Always Making Better Vechicles
As a young girl living on a farm in southern Indiana, Samantha Stone helped train and show performance horses at local and regional competitions, often with great success. read more
All Content ©1996-2012 EOP, Inc.
Website by: