EQUAL
OPPORTUNITY

WOMAN
ENGINEER

MINORITY
ENGINEER

CAREERS &
the disABLED

WORKFORCE
DIVERSITY

HISPANIC
CAREER WORLD

AFRICAN-AMERICAN

CAREER WORLD

Workforce Diversity For Engineering And IT Professionals Magazine, established in 1994, is the first magazine published for the professional, diversified high-tech workforce, which encompasses everyone, including women, members of minority groups, people with disabilities, and non-disabled white males to advance in the diversified working community.

This magazine reaches engineering or information technology graduate students or professionals nationwide at their home addresses.

If you are an engineering/IT graduate student or professional, Workforce Diversity for Engineering & IT Professionals is available to you FREE!
Subscribe Now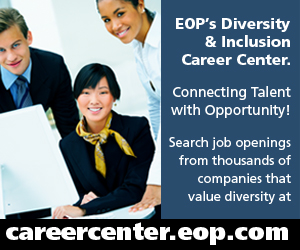 Workforce Diversity

Featured Articles (Current Issue)
» Read Digital Edition
» Subscription Information
» Reader Survey
» Companies Actively Recruiting
Software Success Stories
These four software engineers at major companies share their expertise, experience, and career advice with Workforce Diversity readers. read more


Boardroom Diversity At A Standstill
The Alliance For Board Diversity (ABD) reported that women and minorities have made no real gains in the boardrooms of corporate America. The ABD is a collaboration of four leadership organizations: Catalyst, The Executive Leadership Council (ELC), the Hispanic Association on Corporate Responsibility (HACR), and Leadership Education for Asian Pacifics, Inc. (LEAP). read more


More Engaged Employees
How many employees roll their eyes during meetings to discuss new initiatives? How often do they scramble to complete a task not because they love it, but because they're afraid of the consequences if they don't? How many mutter "not in my job description" when asked to assume a new responsibility? read more

Americans Embrace Workplace Diversity
The Center for American Progress and PolicyLink and funded by the Rockefeller Foundation found that Americans are much more open to diversity and supportive of steps to reduce inequalities between racial and ethnic groups than is commonly portrayed in politics and the media. read more
All Content ©1996-2012 EOP, Inc.
Website by: