EQUAL
OPPORTUNITY

WOMAN
ENGINEER

MINORITY
ENGINEER

CAREERS &
the disABLED

WORKFORCE
DIVERSITY

HISPANIC
CAREER WORLD

AFRICAN-AMERICAN

CAREER WORLD

Workforce Diversity For Engineering And IT Professionals Magazine, established in 1994, is the first magazine published for the professional, diversified high-tech workforce, which encompasses everyone, including women, members of minority groups, people with disabilities, and non-disabled white males to advance in the diversified working community.

This magazine reaches engineering or information technology graduate students or professionals nationwide at their home addresses.

If you are an engineering/IT graduate student or professional, Workforce Diversity for Engineering & IT Professionals is available to you FREE!
Subscribe Now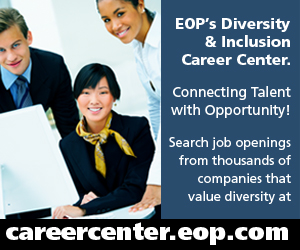 Workforce Diversity

Featured Articles (Current Issue)
» Read Digital Edition
» Subscription Information
» Reader Survey
» Companies Actively Recruiting
The New Frontiers Of Medical Science
The most beneficial advice mycah wilson offers is the one she follows herself. "take control of your career and don't wait for someone to give you an opportunity or ask you to join a project. read more


Diversity's Role In The Modern Workplace
As we move forward into the second decade of the 21st century, so must the need for a substantive understanding and embrace of diversity in the workplace. Earlier this year Intel committed $300 million to achieving a more diverse workforce by 2020. read more


Stem Diversity & Inclusion Trends: Cablevision Systems Corporation
Cablevision Systems Corporation is a leading telecommunications and media company with a portfolio of operations that includes a full suite of advanced digital television, voice, and high-speed Internet services, and valuable local media and programming properties. read more

Ford Accelerates Efforts In STEM Education
For every employer competing in the global economy, attracting and retaining the best and brightest talent is a challenge. In response, Ford Motor Company is accelerating efforts to train future engineering, manufacturing, and IT professionals by adding four additional career academies in Detroi, MI. read more
All Content ©1996-2015 EOP, Inc.
Website by: