EQUAL
OPPORTUNITY

WOMAN
ENGINEER

MINORITY
ENGINEER

CAREERS &
the disABLED

WORKFORCE
DIVERSITY

HISPANIC
CAREER WORLD

AFRICAN-AMERICAN

CAREER WORLD

Workforce Diversity For Engineering And IT Professionals Magazine, established in 1994, is the first magazine published for the professional, diversified high-tech workforce, which encompasses everyone, including women, members of minority groups, people with disabilities, and non-disabled white males to advance in the diversified working community.

This magazine reaches engineering or information technology graduate students or professionals nationwide at their home addresses.

If you are an engineering/IT graduate student or professional, Workforce Diversity for Engineering & IT Professionals is available to you FREE!
Subscribe Now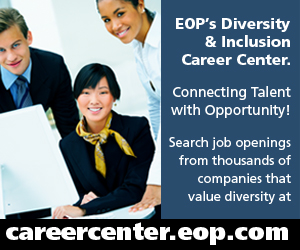 Workforce Diversity

Featured Articles (Current Issue)
» Read Digital Edition
» Subscription Information
» Reader Survey
» Companies Actively Recruiting
Life In The Fast Lane
According to the US Department of Transportation, the transportation industry accounted for 9.5 percent of GDP in 2013. An employer of millions, jobs cross both the private and public sectors. read more


Chicago's Minority Suppliers Of The Year
Five certified minority suppliers were recognized at the Chicago Minority Supplier Development Council's Minority Business Enterprise Input Committee (MBEIC) awards reception, held Thursday, April 23 at the Hyatt Regency Chicago. read more


Inside The Government
These four hard-working people love the challenge and stimulation of working for government agencies. They have found a way to combine their passion for their work with the desire to serve others and their country. read more

Workplace Etiquette Miscues
According to an Accountemps survey, 27% of CFOs said being distracted during meetings is the top workplace etiquette offense. read more
All Content ©1996-2015 EOP, Inc.
Website by: