EQUAL
OPPORTUNITY

WOMAN
ENGINEER

MINORITY
ENGINEER

CAREERS &
the disABLED

WORKFORCE
DIVERSITY

HISPANIC
CAREER WORLD

AFRICAN-AMERICAN

CAREER WORLD

Equal Opportunity Magazine, launched in 1968, is a career-guidance and recruitment magazine offered at no charge to qualified African-American, Hispanic, Native-American, and Asian-American college students and professionals in career disciplines. Equal Opportunity empowers readers to move ahead in their job search and/or current workplace environment.

This magazine reaches students and professionals nationwide at their home addresses, colleges and universities, and chapters of student and professional organizations.

If you are a student or professional who is a member of a minority group, Equal Opportunity is available to you FREE!
Subscribe Now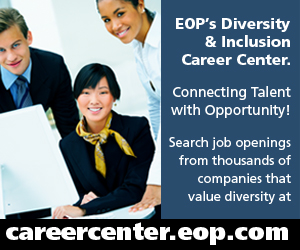 Equal Opportunity

Featured Articles (Current Issue)
» Read Digital Edition
» Subscription Information
» Reader Survey
» Companies Actively Recruiting
America's Veterans
The number of unemployed veterans is staggering. The unemployment rate among post-9/11 veterans remains almost 50% higher than the national average. Among veterans aged 24 and under the unemployment rate nearly doubles that of their civilian counterparts. read more
HP/NACME:Minorities Are Answer To U.S. Engineer Shortage
A prestigious panel of science, technology, engineering, and mathematics (STEM) thought leaders assembled in June at HP headquarters in Palo Alto, CA, called the looming shortage of U.S. engineers, the "New Amer i can Dilemma. read more


Workers Confide They Feel "Trapped" In Jobs
While it is no secret job satisfaction may be low among North American workers, it appears that most also feel stuck in their current position, according to a survey by Right Management, the talent and career management experts within ManpowerGroup. read more

NACE: Employers Trim College Hiring Projections
Employers say they expect their college hiring levels to remain relatively flat, according to a new report from the National Association of Colleges and Employers (NACE). read more
All Content ©1996-2012 EOP, Inc.
Website by: