EQUAL
OPPORTUNITY

WOMAN
ENGINEER

MINORITY
ENGINEER

CAREERS &
the disABLED

WORKFORCE
DIVERSITY

HISPANIC
CAREER WORLD

AFRICAN-AMERICAN

CAREER WORLD

Equal Opportunity Magazine, launched in 1968, is a career-guidance and recruitment magazine offered at no charge to qualified African-American, Hispanic, Native-American, and Asian-American college students and professionals in career disciplines. Equal Opportunity empowers readers to move ahead in their job search and/or current workplace environment.

This magazine reaches students and professionals nationwide at their home addresses, colleges and universities, and chapters of student and professional organizations.

If you are a student or professional who is a member of a minority group, Equal Opportunity is available to you FREE!
Subscribe Now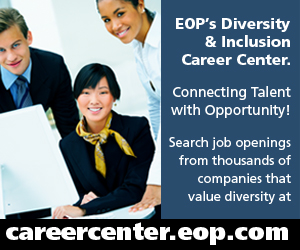 Equal Opportunity

Featured Articles (Current Issue)
» Read Digital Edition
» Subscription Information
» Reader Survey
» Companies Actively Recruiting
Skills Learned In Military Valued
The unemployment rate for veterans who served In active duty in the U.S. Armed Forces at any time since September 2001—a group referred to as Gulf War-era II veterans—declined by 1.8 percentage points to 7.2 percent in 2014, the U.S. Bureau of Labor Statistics reported in March. read more
Villanova Offers Training For Advanced Cybersecurity Professionals
Prevention and preparation for cyber-attacks have never been more important than in today's global economy. read more


Get Your Leadership Skills Noticed
A new study by Pew Research shows that women equal men in most qualities needed to be a good leader, such as intelligence and innovation. read more
Pentagon Federal Credit Union To Support NVTC Veterans Employment Initiative
The Pentagon Federal Credit Union (PenFed) donated $25,000 to the Northern Virginia Technology Council Foundation in support of the NVTC Veterans Employment Initiative. read more
All Content ©1996-2015 EOP, Inc.
Website by: