EQUAL
OPPORTUNITY

WOMAN
ENGINEER

MINORITY
ENGINEER

CAREERS &
the disABLED

WORKFORCE
DIVERSITY

HISPANIC
CAREER WORLD

AFRICAN-AMERICAN

CAREER WORLD

Equal Opportunity Magazine, launched in 1968, is a career-guidance and recruitment magazine offered at no charge to qualified African-American, Hispanic, Native-American, and Asian-American college students and professionals in career disciplines. Equal Opportunity empowers readers to move ahead in their job search and/or current workplace environment.

This magazine reaches students and professionals nationwide at their home addresses, colleges and universities, and chapters of student and professional organizations.

If you are a student or professional who is a member of a minority group, Equal Opportunity is available to you FREE!
Subscribe Now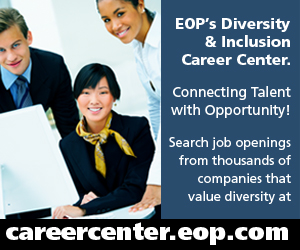 Equal Opportunity

Featured Articles (Current Issue)
» Read Digital Edition
» Subscription Information
» Reader Survey
» Companies Actively Recruiting
STEM: Meeting The Needs Of America's Technical Workforce
Corporations and government agencies, colleges, and universities, and professional associations are active to encourage students in the Science, Technology, Engineering, and Mathematics (STEM) fields. read more
What Are The Hottest Careers For College Grads?
Bridging from college to careers is not always easy, and this is especially true for recent college graduates. read more


Stop Handicapping Yourself: Tips For Young Women In The Workforce
While There has been a lot of buzz lately about women in the workplace, caused to a large degree by Sheryl Sandberg's recent book Lean In, which encourages women to "lean in" to their ambitions and to speak up so their voices are heard. Much of this advice is beneficial to minorities also. read more

AFCEA Scholarships Bridge The STEM Education Gap
Economics experts concur and statistics confirm that the U.S. needs to boost its tech-savvy work force. STEM expertise is a must to remain competitive in a global economy that depends on technology. read more
All Content ©1996-2012 EOP, Inc.
Website by: