EQUAL
OPPORTUNITY

WOMAN
ENGINEER

MINORITY
ENGINEER

CAREERS &
the disABLED

WORKFORCE
DIVERSITY

HISPANIC
CAREER WORLD

AFRICAN-AMERICAN

CAREER WORLD

Equal Opportunity Magazine, launched in 1968, is a career-guidance and recruitment magazine offered at no charge to qualified African-American, Hispanic, Native-American, and Asian-American college students and professionals in career disciplines. Equal Opportunity empowers readers to move ahead in their job search and/or current workplace environment.

This magazine reaches students and professionals nationwide at their home addresses, colleges and universities, and chapters of student and professional organizations.

If you are a student or professional who is a member of a minority group, Equal Opportunity is available to you FREE!
Subscribe Now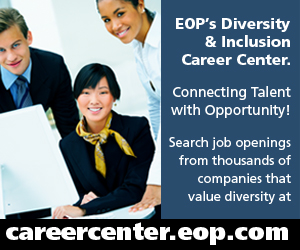 Equal Opportunity

Featured Articles (Current Issue)
» Read Digital Edition
» Subscription Information
» Reader Survey
» Companies Actively Recruiting
The Next Generation of Computer Careers
Some of the top CIOs and senior technology executives gathered at the Gartner Symposium/ITxpo last fall to determine the most influential computer trends for 2015 and the immediate future thereafter. read more
Black & Veatch Teams Up With Sporting KC To Launch STEM Program
Major league soccer team Sporting Kansas City is partnering with global engineering and construction company Black & Veatch to launch a program aimed at enhancing interest in STEM among local students in grades 6-8. read more


Financial Advising: A Compelling Career Option For Veterans
With an estimated 300,000 or more service members leaving the military over the next year, the challenge of transitioning back to civilian life and finding a career is one that many service members will likely face. read more
CenturyLink's Pacific Asian American Network Promotes Community Outreach
CenturyLink's Pacific Asian American Network (PAAN) group in Seattle, which has been in existence for 35 years, is heavily involved in the local Asian community. read more
All Content ©1996-2015 EOP, Inc.
Website by: