EQUAL
OPPORTUNITY

WOMAN
ENGINEER

MINORITY
ENGINEER

CAREERS &
the disABLED

WORKFORCE
DIVERSITY

HISPANIC
CAREER WORLD

AFRICAN-AMERICAN

CAREER WORLD

Equal Opportunity Magazine, launched in 1968, is a career-guidance and recruitment magazine offered at no charge to qualified African-American, Hispanic, Native-American, and Asian-American college students and professionals in career disciplines. Equal Opportunity empowers readers to move ahead in their job search and/or current workplace environment.

This magazine reaches students and professionals nationwide at their home addresses, colleges and universities, and chapters of student and professional organizations.

If you are a student or professional who is a member of a minority group, Equal Opportunity is available to you FREE!
Subscribe Now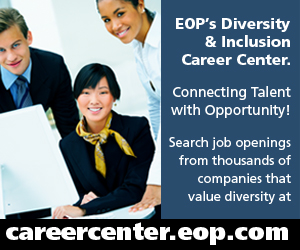 Equal Opportunity

Featured Articles (Current Issue)
» Read Digital Edition
» Subscription Information
» Reader Survey
» Companies Actively Recruiting
A Solution For Every Question


From big data to the cloud to customized solutions to help businesses of all sizes run smoothly, the computer software and IT service field needs professionals with a wide variety of skill sets and experience levels to answer today's technological questions.

read more
Top Ten Civilian Jobs For Vets
It is often an uphill climb for veterans to find the right civilian jobs after their military service. read more


Women Sidestep Job Postings Asking For Traditional Male Traits
What types of words in employment ads catch your attention? In a study on how leaders are selected and assessed, scientists from Technische Universität München , one of Europe's leading research institutions, also discovered that the wording of job ads can deter women from applying.. read more

Western & Southern Life Advances Financial Education In Hispanic Community
The Western and Southern Life Insurance Company (Western & Southern Life), headquartered in Cincinnati, is partnering with Una Familia Sin Fronteras Foundation (A Family Without Boundaries Foundation) to advance financial education in the Hispanic community across the country. read more
All Content ©1996-2012 EOP, Inc.
Website by: