EQUAL
OPPORTUNITY

WOMAN
ENGINEER

MINORITY
ENGINEER

CAREERS &
the disABLED

WORKFORCE
DIVERSITY

HISPANIC
CAREER WORLD

AFRICAN-AMERICAN

CAREER WORLD

Equal Opportunity Magazine, launched in 1968, is a career-guidance and recruitment magazine offered at no charge to qualified African-American, Hispanic, Native-American, and Asian-American college students and professionals in career disciplines. Equal Opportunity empowers readers to move ahead in their job search and/or current workplace environment.

This magazine reaches students and professionals nationwide at their home addresses, colleges and universities, and chapters of student and professional organizations.

If you are a student or professional who is a member of a minority group, Equal Opportunity is available to you FREE!
Subscribe Now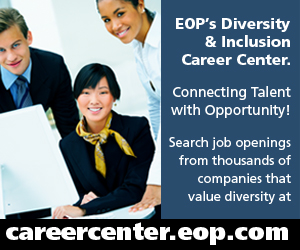 Equal Opportunity

Featured Articles (Current Issue)
» Read Digital Edition
» Subscription Information
» Reader Survey
» Companies Actively Recruiting
Insuring Your Professional Future
The employment outlook for the insurance industry continues to be positive, with a growth rate of nearly 10% between now and 2020. read more
Niagara University's Hospitality & Toursim Program Graduates Achieve Great Success
During Graduates of Niagara University's (Lewiston, NY) College of Hospitality & Tourism Management achieve a nearly 100 percent placement rate and often earn starting salaries that exceed those with new four-year degrees. read more


The Helping Hands Of Hospitality
Looking for an industry with solid growth potential? The hospitality sector is one of America's largest employers. In fact, it ranks as one of the top ten largest industries in 49 states plus the District of Columbia. read more

Chrysler Group "Women of Color" Gain Major Recognition At Event
Chrysler Group LLC technical business leaders received honors for their career achievements at the 17th Annual Women of Color STEM Conference October 23-25 in Detroit. read more
All Content ©1996-2012 EOP, Inc.
Website by: