EQUAL
OPPORTUNITY

WOMAN
ENGINEER

MINORITY
ENGINEER

CAREERS &
the disABLED

WORKFORCE
DIVERSITY

HISPANIC
CAREER WORLD

AFRICAN-AMERICAN

CAREER WORLD

Equal Opportunity Magazine, launched in 1968, is a career-guidance and recruitment magazine offered at no charge to qualified African-American, Hispanic, Native-American, and Asian-American college students and professionals in career disciplines. Equal Opportunity empowers readers to move ahead in their job search and/or current workplace environment.

This magazine reaches students and professionals nationwide at their home addresses, colleges and universities, and chapters of student and professional organizations.

If you are a student or professional who is a member of a minority group, Equal Opportunity is available to you FREE!
Subscribe Now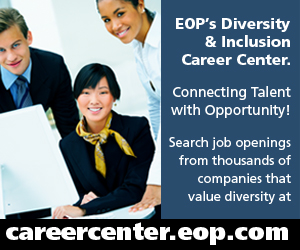 Equal Opportunity

Featured Articles (Current Issue)
» Read Digital Edition
» Subscription Information
» Reader Survey
» Companies Actively Recruiting
The Hidden Healers
Behind every successful nurse and doctor is a healthcare administrator, the person whose dedication and social savvy enables direct healthcare providers to stay focused on the patients at hand. read more
Toyota Increases Support To Marine Corps Scholarship Foundation
As many as 300 new higher education scholarships will be created for children of Marines and Navy Corpsmen over the next five years. read more


Effective Resumes: Fact And Fiction
As the saying goes, you never get a second chance to make a first impression. Recruiting expert David Boggs, practice leader at WK Advisors, a division of executive search firm Witt/Kieffer offering mid-level executive search consulting services, sees hundreds of résumés, each week. read more

Western & Southern Life Advances Financial Education In Hispanic Community
The Western and Southern Life Insurance Company (Western & Southern Life), headquartered in Cincinnati, is partnering with Una Familia Sin Fronteras Foundation (A Family Without Boundaries Foundation) to advance financial education in the Hispanic community across the country. read more
All Content ©1996-2012 EOP, Inc.
Website by: